Propeller Repair
We have been professionally repairing marine propellers since 1954
Kruger & Sons Propeller is certified to repair bronze, nibral, stainless steel, and aluminum propellers by the National Marine Propeller Association. We repair propellers up to 14' in diameter using HALE MRI Advanced Technology Electronic 3D Propeller Inspection and Analysis System.

The Hale Propeller Measurement Recording Instrument is perhaps the most sophisticated and certainly the most versatile, computerized three dimensional propeller measurement device available. Designed for precise three dimensional position data, these High Resolution Astronomy Grade Optical encoders transmit three dimensional positioning data to the computer.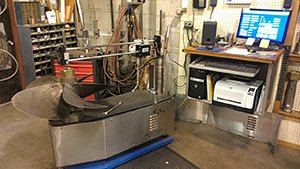 This allows the software to determine and calculate not only pitch but also camber, rake, track, and blade geometry at any point on any blade. At Kruger & Sons your propeller will be repaired using our Hale MRI High Resolution Analysis System to ISO Class 1 specifications as our shop standard. Upon completion of repair, easy to understand reports are printed, than presented to the customer.
We repair propeller blades and prop hubs on Aluminum, Stainless Steel, Bronze and Nibral propellers. We can re-pitch your propeller, repair your skeg and cavitation plate.
We also provide custom made boat shafting as well as shaft straightening.